Hair Regrowth Bundle - Menopause (Natural Life)
Regular price

Sale price

$42.00
Our most effective kit for stimulating luscious new hair growth, whilst adding moisture, during the menopause

As women transition through menopause, most of us notice our hair becoming dry and coarse. It doesn't feel great and can be hard to manage. Some women may experience hair loss.
Combine Hair Loving's Derma Roller and Natural Life Hair Oil Duo to promote collagen formation to stimulate hair growth without the use of surgery or chemicals.
This duo pack contains:
1 x 50ml Natural Life Hair Oil
1 x Hair Loving Derma Roller.
Full instructions are below.
INGREDIENTS

Hair Oil:
Natural, vegan, cruelty-free ingredients including:
*Avocado and castor oils to stimulate hair follicles that slow down due to hormonal imbalances during perimenopause/menopause.
*Vitamin E oil to moisturise and nourish itchy scalp associated with menopause.
*Jasmine oil to promote calm and shine and help reduce hot flashes.
*Lavender's calming scent to aid relaxation and promote sleep associated with menopause.
*Geranium Rose oil is known to relieve stress and anxiety, whilst providing clarity and self-confidence, associated with menopausal symptoms.

Rinisus Comunis Castor Oil), Prunus Amygdalus Dulcis (Almond Oil), Vitis Vinifera (Grapeseed Oil), Persea Gratissima (Avocado Oil) Tocopherol (vitamin E Oil), Pogostemon Cablin Leaf Oil (Patchouli oil) Jasmine Officinale (Jasmine Essential oil), Pelargonium Roseum Leaf Oil (Geranium Rose Essential Oil),

HOW TO USE

STEP 1: Stimulate Hair Follicles With Hair Loving's Derma Roller
- On dry hair, place the derma roller at the edge of where you'd like to target the hair-thinning area to improve hair growth (e.g. the hairline, or the side of the temples).
- Run the roller across the scalp in multiple directions: horizontally, vertically, and diagonally.
- Press down firmly enough so you feel some pressure, but not hard enough to where you feel pain.
- Don't roll over the same area more than 4 -10 times in each direction.
- Make sure to move the roller head in the direction of the hair strands whenever possible to avoid pulling hairs out.
- After use rinse the roller in warm soapy water and dip it in a disinfecting alcohol solution.

STEP 2: Apply Hair Loving's Natural Life Hair Oil.
- Massage into the scalp by dividing longer or thicker hair into up to 6 sections then gently spread oil from roots to tips.
- For maximum benefit use 3 to 7 pumps (depending on hair thickness and length).
- Leave in for 6-12 hours for maximum benefit.
- Rinse, shampoo, condition and style as usual.
- Repeat once a week for 12 weeks.
- Discontinue use if irritation occurs.

AS A MULTI-PURPOSE HAIR OIL:
Apply as a sealing oil to wet hair or use on dry hair to tame frizz for beautifully conditioned hair. Style as normal. This is not a heat-protecting product.

Use the Hair Loving hair towel wrap for added benefits.
Share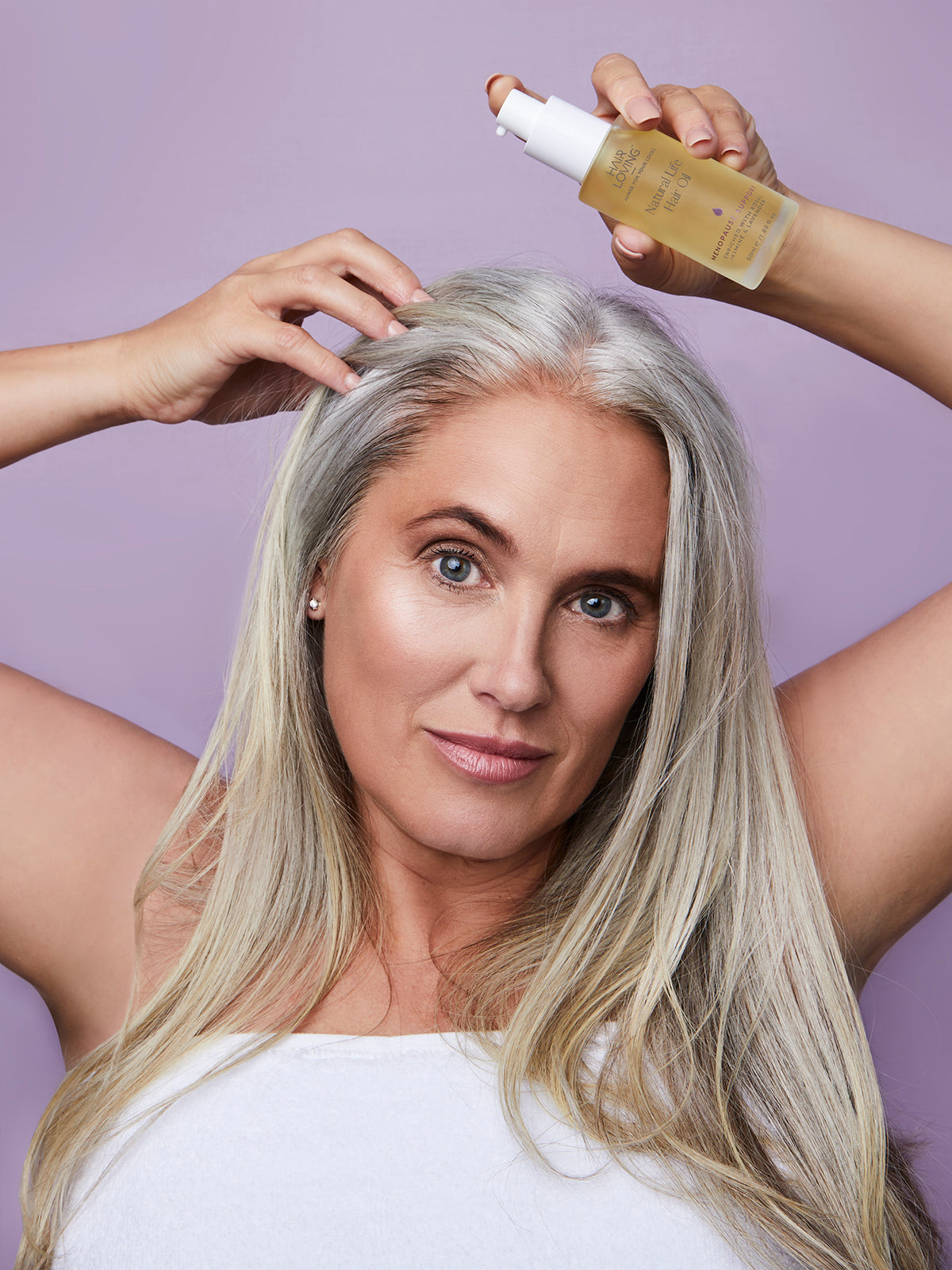 100% Natural

Worldwide Shipping

Plastic-Free

Cruelty-Free