Festive Deluxe Hair Care Pamper Gift Box
Regular price

Sale price

$65.00
A woman feels amazing when she looks her best. Give her the full personal pamper treatment with this complete 4-step festive box - she'll love you even more for it!
This Festive Deluxe Hair Growth & Hydration Pamper Box contains:

1 x 100ml Hair Growth and Hydration oil or New Beginnings Oil or Natural Life Hair Oil

1 x Luxurious Hair Towel Wrap**

1 x Derma Roller to stimulate hair growth
1 x Anti-static Wide Tooth de-tangling comb 

** (Due to temporary stock issues with our supplier, hair wraps will be white instead of the standard bamboo colour)

---
 Benefits:
Combing - helps to prepare your hair for the treatment, ensuring each strand gets an even coating of oil.
Derma Roller - Micro-needling delivered by a derma roller stimulates the production of stem cells that further contribute to the higher production of progenitor cells and collagen in the hair follicle, helping promote hair thickening and hair regrowth.
Hair Oil - Promotes hair growth and strength in thin, brittle, damaged hair. Helps to soften, smooth and add shine making hair fuller. Divinely scented with purpose – enriched with jasmine, ginger and avocado. Treats dandruff + itchy scalps – contains vitamin e oil.
Hair Wrap - Absorbs excess moisture after wash, reduces breakage whilst ensuring silkiness of hair, and eliminates frizziness / static.
INGREDIENTS

Hair Oil:

Natural, vegan, cruelty-free ingredients including:
*Ginger and castor oils stimulate hair follicles to aid growth.
*Avocado oil to promote shine.
*Vitamin E oil to repair and replenish dandruff-prone, itchy scalp hair ends to healthier, thicker, fuller hair that shines out from the crowd.
*Jasmine for a beautifully calming scent

Ricinus Comunis (Castor Oil), Prunus Amygdalus Dulcis (Almond Oil), Vitis Vinifera (Grapeseed Oil), Persea Gratissima (Avocado Oil) Tocopherol (vitamin E Oil), Jasmine Officinale (Jasmine Essential oil), Zingiber Officinale, (Ginger Essential Oil).
HOW TO USE

For Best Results We Recommend Our 4 Step System:

Step 1: Comb Hair with Detangling Comb
- Divide hair into sections
- Start from the bottom/mid-lengths and work your way up to combing the hair on the scalp to prep for the derma roller.

Step 2: Derma Roller
- On dry hair, place the derma roller at the edge of where you'd like to target the hair thinning area to improve hair growth (e.g. the hairline, or the side of the temples).
- Run the roller across the scalp in multiple directions: horizontally, vertically, and diagonally.
- Press down firmly enough so you feel some pressure, but not hard enough to where you feel pain.
- Don't roll over the same area more than 4 -10 times in the direction of hair growth only.
- Make sure to move the roller head in the direction of the hair strands whenever possible to avoid pulling hairs out.
- After use rinse the roller in warm soapy water and dip it in a disinfecting alcohol solution.
- Discontinue use if irritation occurs

Step 3: Apply Hair Loving's Hair Oil
- Massage into the scalp by dividing longer or thicker hair into up to 6 sections then gently spread oil from roots to tips.
- For maximum benefit use 3 to 7 pumps (depending on hair thickness and length), leave it overnight or apply pre-shampoo for a quick moisture boost then shampoo, condition and style as normal.

Step 4: Rinse & Wrap
- Follow your usual hair washing routine and once fully rinsed, apply one pump of oil to your ends.
- Tip your head down letting your hair fall downwards.
- Place the widest part of the wrap against the base of the hairline on the neck and place all the hair into the wrap.
- Twist the wrap and button onto the loop at the nape of your neck.
- Leave for 5-15 minutes to absorb excess dampness.
- Style as normal.

To REDUCE FRIZZ - Apply as a sealing oil to wet hair or use on dry hair to tame frizz for beautifully conditioned hair. Style as normal. This is not a heat-protecting product.
MATERIAL

Towel Wrap: Composition: 80% Polyester, 20% Nylon
CARE GUIDE

Towel Wrap:
Wash at 30°C (86°F) on a reduced spin.
Do not bleach.
Do not dry clean.
Do not tumble dry.
See the care label for additional information.
Share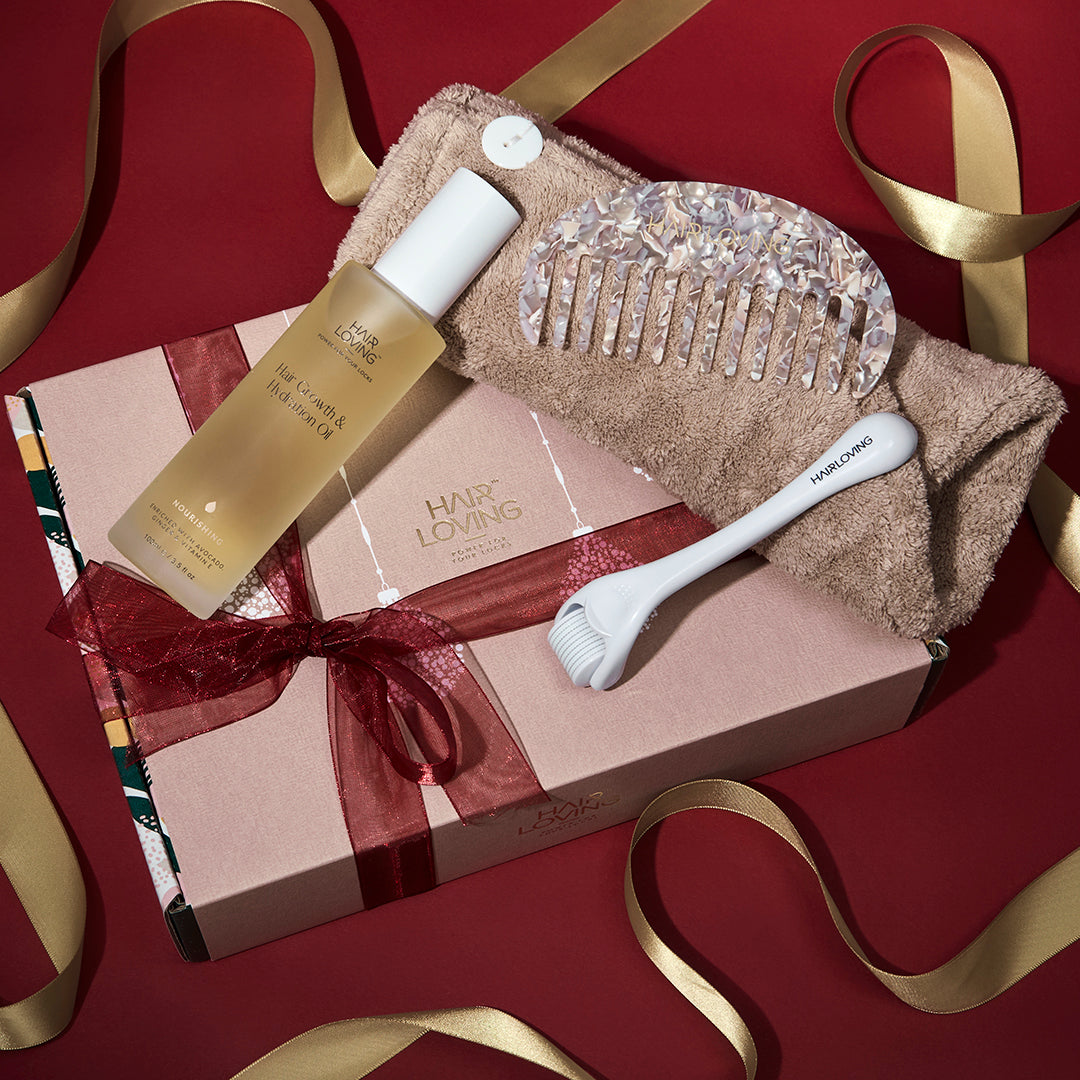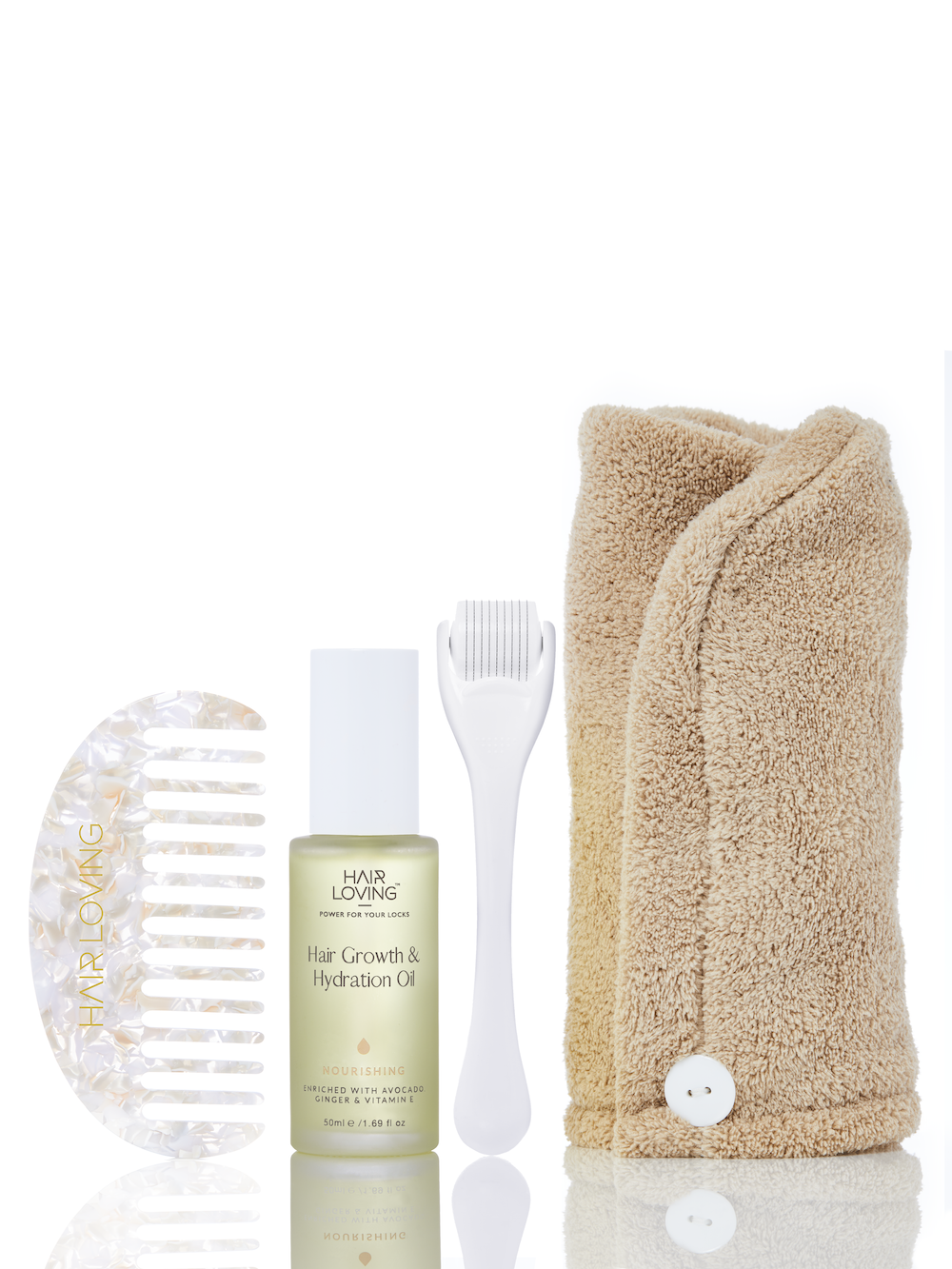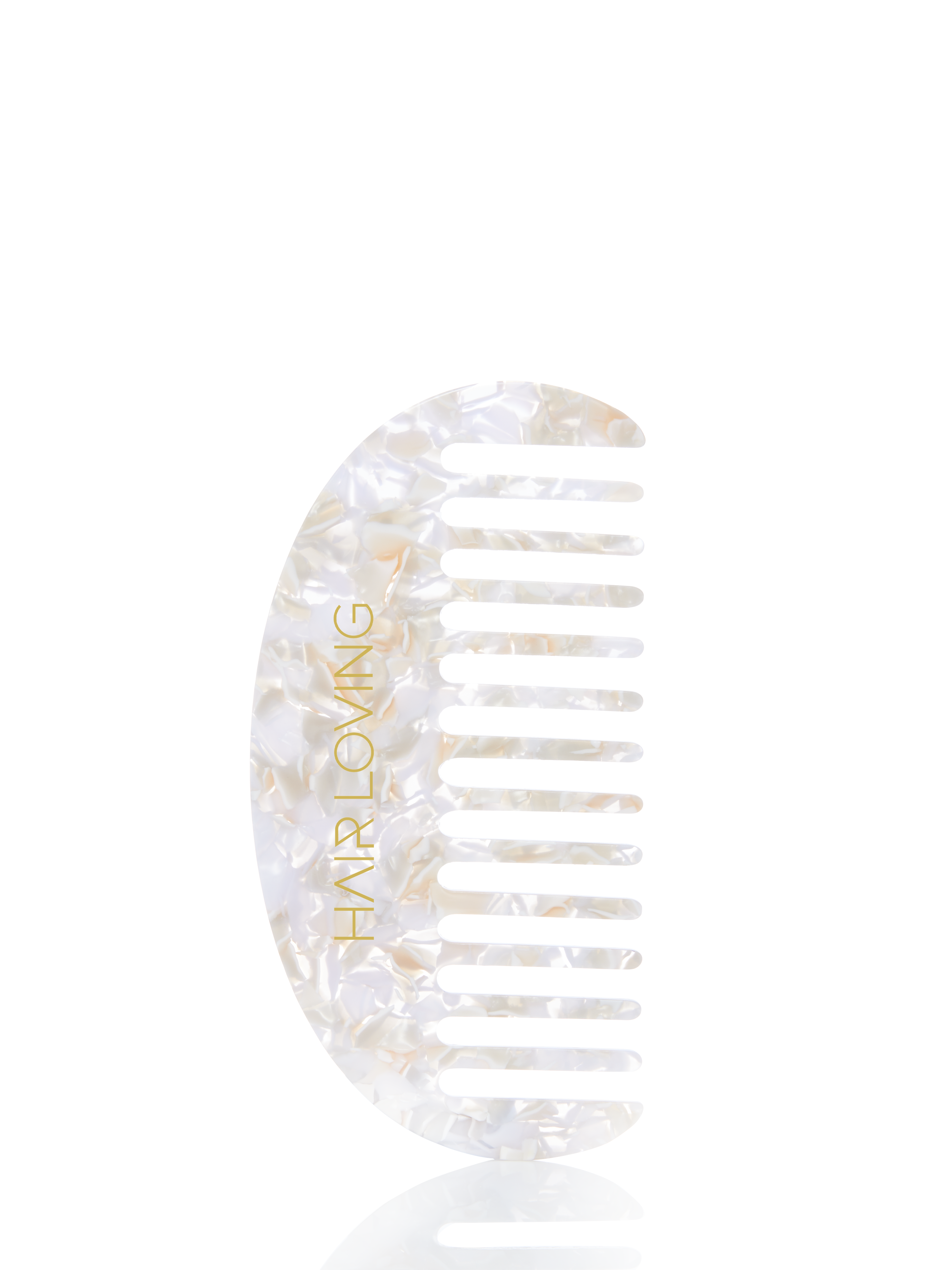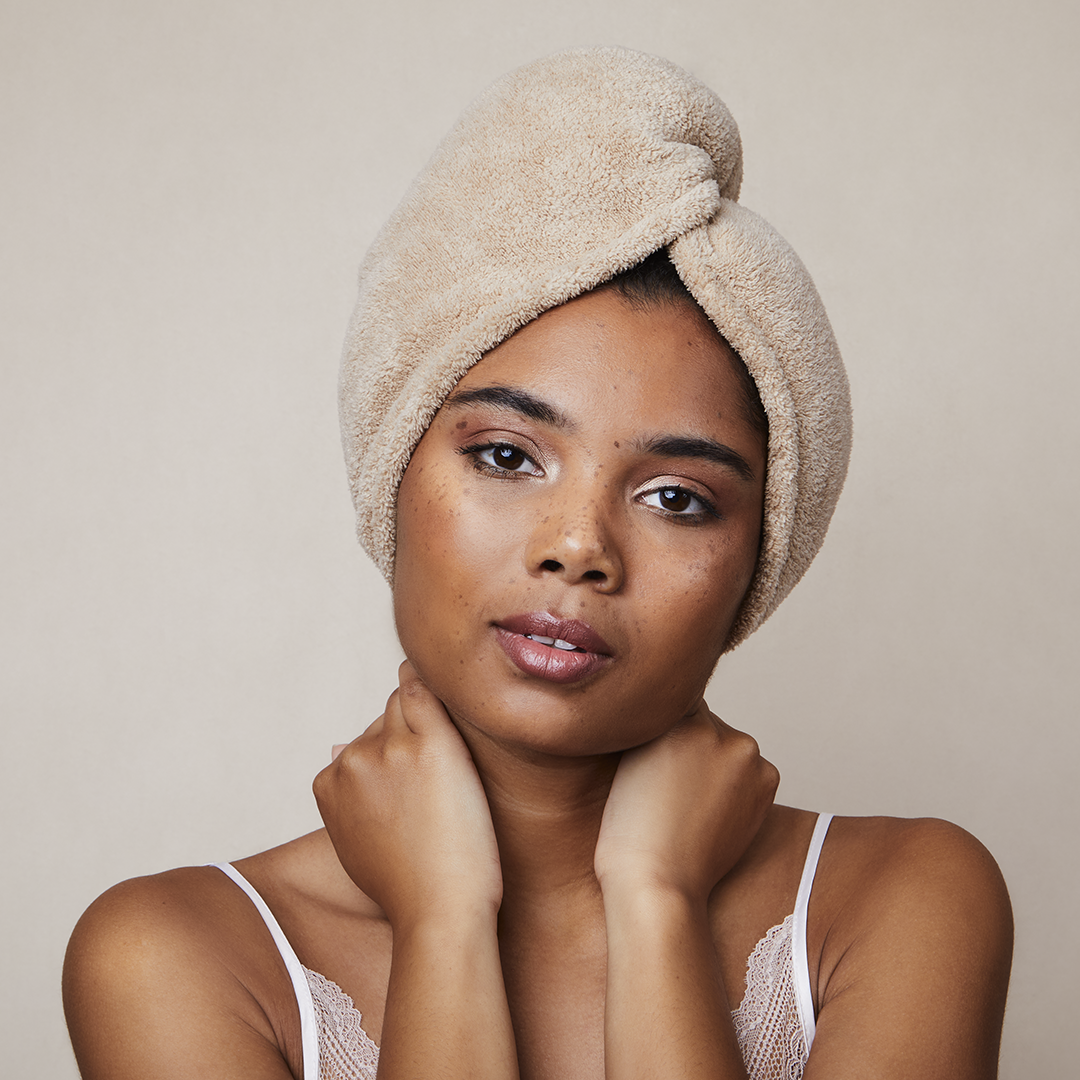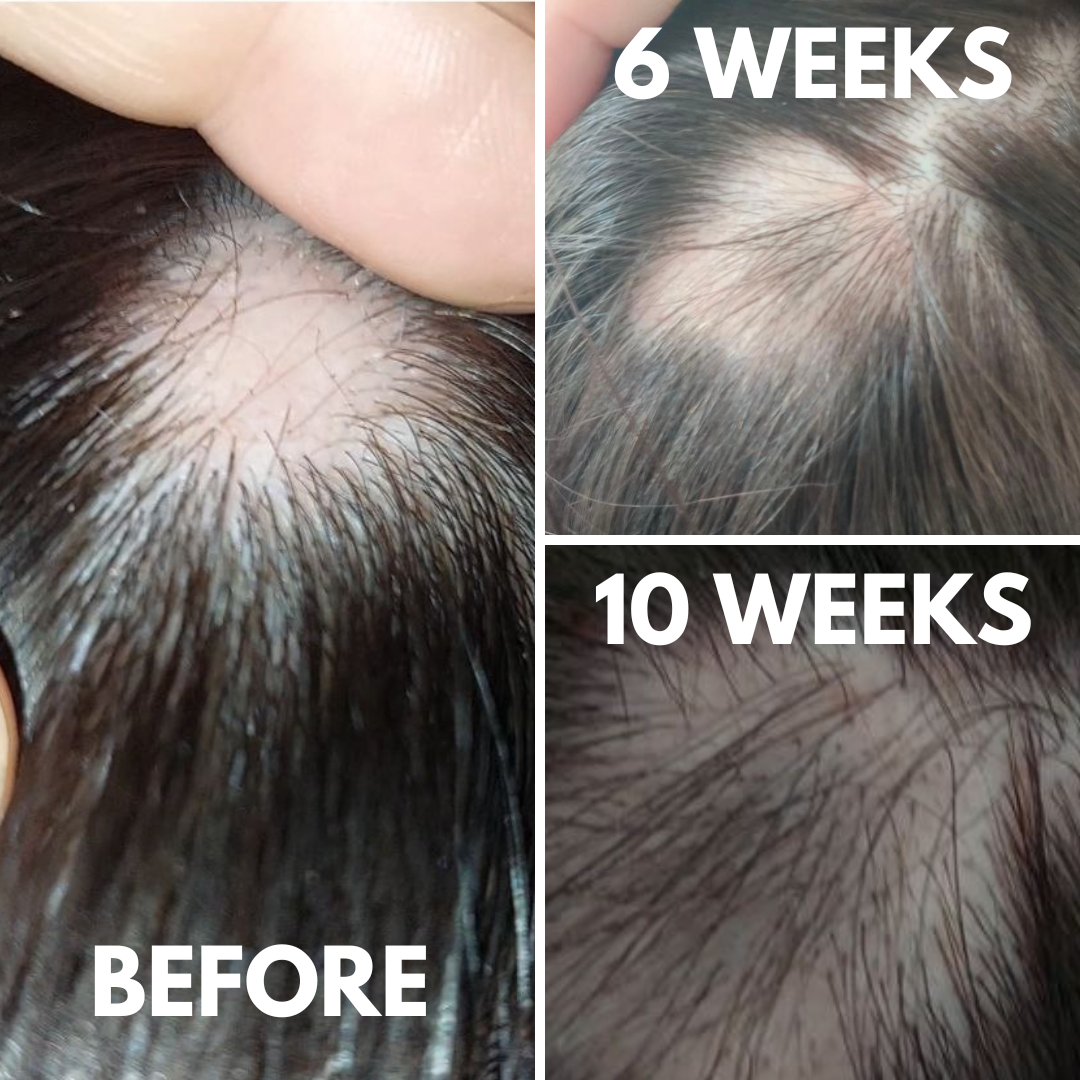 100% Natural

Worldwide Shipping

Plastic-Free

Cruelty-Free